Economy bunk beds with Air New Zealand
Economy passengers flying with Air New Zealand will be able to make use of bunk beds from 2024.
Economy sleeping pods
In a bid to tempt people to travel with their airline, Air New Zealand will install six sleeping 'pods' in their aircraft. These will be used by travellers in regular and premium economy classes.
Amenities
Dubbed 'Skynests', the pods will have bedding which will be changed by Cabin Crew between each use. The mattresses will be arranged like bunk beds to make best use of the space.
Each pod will have a privacy curtain, USB charging and "ventilation outlets".
Only five economy seats will need removing to create enough room for the six pods, which will feature in Air New Zealand's Boeing 787-9 Dreamliners.
Beds on ultra-long-haul routes
Air New Zealand is launching its direct 17+ hour flight between Auckland and New York this September, but the pods will not be ready until 2024. The route between Auckland and Chicago is also set to re-launch in the autumn.
Pricing has not yet been determined but sleeping sessions will be limited to one per customer due to anticipated high demand.
The Skynests will be "a real game-changer for the economy travel experience" according to Air New Zealand Chief Executive, Greg Foran.
The race towards ultra-long-haul flights is developing, as direct connections between East Coast US and Australasia become a reality.
'Wellbeing zones' are being discussed by Qantas, where economy passengers can get moving and have a stretch, alongside 'care stations' on Air New Zealand aircraft.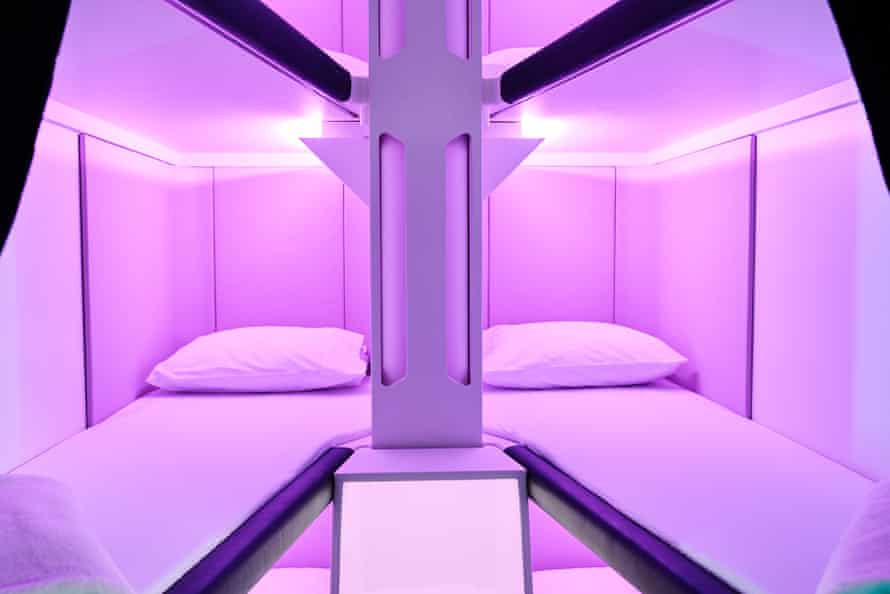 It isn't Air New Zealand's first foray into improving passenger comfort. They already offer a Skycouch option. This enables families or passengers who have booked a full row of seats to make use of special footrests to turn seating into makeshift bunks.